News
Super blue foods such as mussels or sea urchins could be the solution to world hunger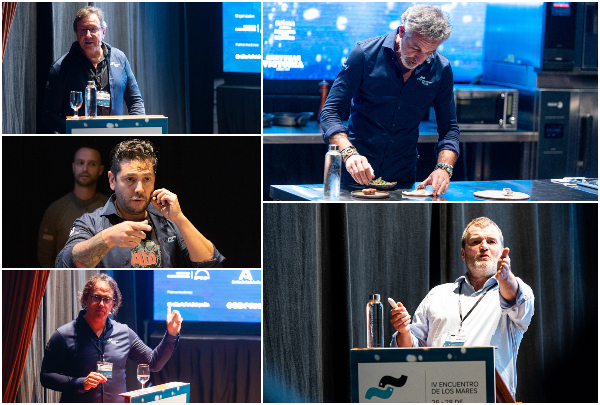 The 4th Meeting of the Seas kicks off with a focus on the sustainable aquaculture of super blue foods "to combat the world's food problems".
The Casa Grande Cultural Centre in Ayamonte (Huelva) was the venue for the first day of talks at the 4th Meeting of the Seas, making a start on profiling the need to focus on super blue foods as a recipe to combat world hunger. This was the idea which scientist and marine biologist Carlos Duarte and professor and University of Santiago de Compostela professor and researcher Sebastián Villasante wanted to convey, touching on the improvement of sustainable aquaculture as a formula. Fishery techniques for species in captivity or free were also commented on by chefs Pepe Solla (Casa Solla*), Diego Gallegos (Sollo*) and sea urchin fisherman Roderick Sloan.

But the leitmotiv of the congress was super blue foods, with "blue" not only understood as sea, but also as water, "so this also includes the foodstuffs produced by aquaculture", explained Duarte, who is also the event's scientific director. First of all he provided some definitions: "Super blue foods, especially the marine variety, are affordable foodstuffs with a high nutritional value which are beneficial to human and environmental health, and a major source of essential micronutrients, and they also play an important role in boosting our mental, coronary and immunity health. They also have a low incidence in terms of carbon, and their low prices mean everyone can afford them".

And so, he said, "blue foods are a major source of the global diet", although "we must focus on how to produce them without affecting their biodiversity. And aquaculture might be the solution". An aquaculture which globally began in the Norwegian fjords (with salmon) and the estuaries of Galicia (with mussels); aquaculture which "has solved the hunger problem for many millions of people".

Putting things into context, the biologist homed in on mussels, sea urchins, anemones, sardines, abelones, oysters, macroalgae and sea pickles as the most sustainable marine blue foods, "although work must be carried out without any wild populations and land-based foodstuffs, in pollution-free waters, to provide habitats for biodiversity". For this to come about, Duarte called for team work among scientists, chefs, industry and communicators. "Together we will help the oceans recover by 2050".

Sollo's aquaculture and Solla's open fishing

The first chef to speak up, who had already done so when he opened Sollo, and "some people said I was crazy", was Diego Gallegos. The Brazilian of Peruvian origin explained at Meeting of the Seas the aquaponic system he has installed next to his restaurant, "a solution to breed fish and live 90% off our own production". A project which enables Sollo to "offer diners a comprehensive fluvial experience", and "so that tomorrow we can continue to enjoy today's produce, because supplies will be exhausted if we carry on the way we are going".

Pepe Solla was slightly more rebellious on the topic of aquaculture, but he discussed larger fish, not the super foods with low trophic levels that can feed human beings. The chef at Casa Solla* took a stand for ocean fish, "because they are perfect. They become imperfect when we turn them into a catch ". This was the first stumbling block, fishing techniques: "Fishing processes could be considerably improved. They should be less aggressive, to help maintain product quality".

Fishing techniques were also mentioned by the international speaker at the congress. Roderick Sloan, chef and sea urchin fisherman in the Norwegian Arctic, called for fishing techniques "to leave the surroundings intact". "The sea can be a major source of food with a coherent, sustainable, proper fishing system". And so he was "very strict. In Norway, we do everything by hand - fishing is not mechanical. Divers go down and they take them one by one, and that's why it's so expensive", he explained, before moving on to the need to modernise the industry.

Sloan feels "the ideal system is to use small boats and divers, because this ensures that the product is top-quality, and also creates jobs and payment for workers", but he believes that no progress is being made in terms of technology. "Drones are one of the solutions, because they allow sea food to be selected without any need for divers. They are operated by remote control, but this technology is two years from now".

Boosting the consumption of fish to reduce the consumption of meat

Solutions to improve the marine habitat and biodiversity, the objective previously sought by professor and University of Santiago de Compostela professor and researcher Sebastián Villasante. "The way we produce and consume food is the greatest cause of non-sustainable development on the planet. The greatest producer of greenhouse gas emissions is agriculture, and it is also the greatest consumer of fresh water and the greatest cause of biodiversity losses". Therefore, "if we want to take the planet's health seriously, we must guarantee not only a healthy exchange, but also a stable, fair supply of food".

This again brought up the issue of blue foods. "Malnutrition in all its forms can be addressed by means of sustainable management of aquaculture and fishing through blue foods. Boosting consumption of these foods can also reduce the consumption of land-based meat, and so reduce chronic illnesses related to consumption", concluded Villasante, the first speaker at Meeting of the Seas 2022.

The congress has lunch in Portugal

After the morning sessions the congress crossed the Guadiana to move into Portugal, for lunch at the Vistas restaurant in Vila Nova de Cacela. Chef Rui Silvestre opened his Michelin-starred restaurant to lay on the event's first lunch, with the assistance of another Portuguese chef - Joao Rodrigues (ex Feitoria*, Lisbon) already known to the congress, following his appearance last year to present his Materia project - and Sevilla chefs Rafa García and Marcos Nieto from Cañabota*.

After lunch, another Portuguese guest, Pedro Bastos (Nutrifresco), took the mike to discuss the new balance between fishing and ecology of the local territory, the Algarve. In the evening, five chefs from Huelva restaurants played host to happy congress-goers at the Bar Isla Piscina in Hotel Iberostar Isla Canela (Ayamonte, Huelva).

Magazine