Speaker
Ángel León
Chef at Aponiente*** (Puerto de Santa María, Cádiz)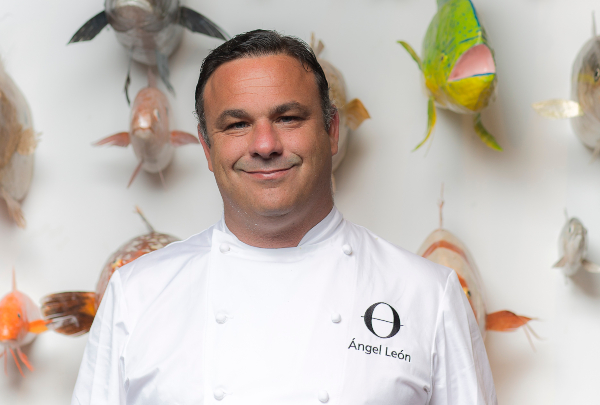 Ángel León is the head chef of Aponiente, a restaurant where he has taken seafood to a whole new level. It is no wonder that he is known in Spain and around the world as the "Chef of the Sea".
Born to a haematologist father, Léon initially learned to cook in La Taberna del Alabardero in Seville. Three years later he moved to France to further perfect his skills and then returned home to work alongside Fernando Córdoba in the restaurant El Faro (El Puerto de Santa María). He then moved on La Casa del Temple, in Toledo, as chef de cuisine and later, in 2007, he started his own project, Aponiente, where he has been dazzling the public and food critics alike.
Ángel León (Jerez de la Frontera, 1977) is undoubtedly one of the most influential chefs of our times, with the innate talent that characterises those who take gastronomy to new unexplored heights, or in his case, to the unexplored depths of the seas. León's discourse is based on respect and fantasy, symbiotically combining tradition and evolution.
A seaman at heart, his passion for the sea, fishing and anything related to the nature he is drawn to – fish, seaweed and salts – projects his cooking to the most intimate horizons. He is distinctively recognisable through his international outlook built on his Cadiz roots and seafaring spirit. Rather than pursue the discovery of ground-breaking culinary techniques, his restless mind bursting with an avalanche of ideas obsessively drives him to extract what others cannot see from the sea to bring new ingredients and untapped species to humankind.
León conveys a certain dreamy air of romanticism, translating his culinary and seafaring ideals into what you might call a recreation of 21st century seafood cuisine. His cooking, which relies on basic preparations, fumets and fire, is reminiscent of an old alchemist's workshop where boiling cauldrons of dark ocean depths would stew in a balancing act juggling tradition, vanguard and risk-taking.
Beyond his commitment to the socialisation and dissemination of his culinary concept and the R&D projects he pursues at his Aponiente restaurant, León has spoken at key industry events as well as major schools such as Harvard University and The Culinary Institute of America. He has also contributed to several publishing projects – the most noteworthy being his book El Chef del Mar (Montagud Editores) – and his TV series of the same name has gone into several seasons.
Throughout his career, León has received countless awards, including the Premio Nacional de Gastronomía 2013 and Chef L'Avenir 2011. In addition to its three Michelin stars, Aponiente currently stands at 28th in OAD's list of the 100 Best European Restaurants and 94th in The World's 50 Best Restaurants' list. The other restaurant he runs, Alevante in Sancti Petri (Chiclana de La Frontera) also holds one precious Michelin since 2017.
Ángel León