News
"Seaweed is the planet's most sustainable foodstuff"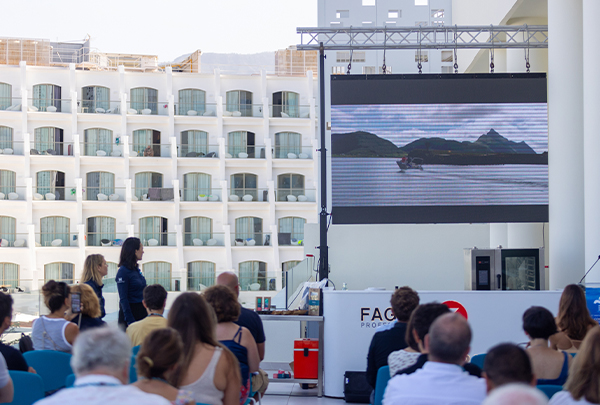 United in their love of sea food, Angelita Erikessen & Tamara Singer created Lofoten Seaweed on Norway's sheer coastline, a remote, icy-cold region which is home to 500 of the world's 12,000 species of seaweed.
And they did so with a clear belief: that the future of food lies in the ocean. Today they kicked off the event's last conference to recount their romantic feat - collecting 10 tonnes of seaweed a year by hand, using careful gathering methods to guarantee healthy reproduction, and minimum impact.
And they do all this in the waters of the Nappstraumen, which boasts the world's fourth fastest tidal current and is the birth place of Angelita, who grew up cutting out cod tongues and baiting longlines for her father, a fisherman. "He thought I was crazy when I decided to get into the world of sea vegetables, and now he works with us", she joked. And meanwhile she met up with Tamara, a New Zealander with a Japanese mother who had eaten seaweed all her life. "When I showed my mother Norway's seaweed produce she identified all the species, tasted them, and loved them; and she still does", she told the congress.
"Seaweed is the planet's most sustainable foodstuff; it doesn't need any fertiliser, it doesn't have to be watered, and it absorbs large amounts of CO2", they explained as the reasons for their work, "and it's also extremely nutritious, especially due to the iodine content, and the umami flavour makes it really tasty". They work, in fact, with many chefs, and their innovative nutritious products are used in Michelin-starred restaurants all over the world, with algae pearls as an imitation of caviar, or furikake made from dry fish and seaweed, in a combination of the Japanese and Nordic cultures, which they presented today at the congress.
"Our mission is to boost the consumption of what we feel is the foodstuff of the future, a food the Vikings used to eat during their long journeys, and so we have to make attractive simple products, and educate consumers on seaweed's marvellous nutritious and organoleptic properties", they declared. And so, there can be no better plan than "working with chefs to organise workshops to teach people how to use the product, and share recipes on Internet and also arrange visits to schools. We want to change the image people have of seaweed, and make them see it as an underwater plantation", they explained.
Magazine